Download TypingMaster Software
Download Typing Master 10 for Windows - It's Free!
Typing Master 10 is our newest typing tutor with all the latest features. In this new version, all the features and the whole study material is now completely free! Download Typing Master Version 10 today and start training your typing skills.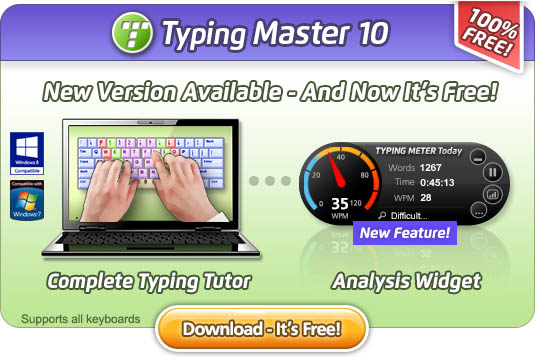 Read more...
Download TypingMaster 10, Multilingual version (Time Limited Trial)
We have released TypingMaster 10 in 7 languages: English, Spanish, French, German, Dutch, Swedish and Finnish. Here you can download a limited trial version - if you like it you can easily purchase your license.
Download TypingMaster Pro 7 (Limited Trial)
The previous TypingMaster Pro 7 is also available in 7 languages - you need to have a valid license key to activate.